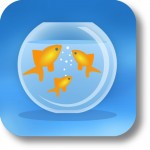 Fishbowl – Social Collaboration with a Location Twist
Create virtual fishbowls to easily capture the contact details of any group at a real life meeting, occasion, gathering or event. Set up a bowl at your current location, label it then everyone you want drops their contact details (or fish) into it and you can immediately chat and share links.

Special Olympics – 2011 World Games
Download this app for up-to-date information on Team Ireland competing in Athens, as well as keeping in touch with our athlete bloggers who represent the 11,000+ athletes who participate with Special Olympics on a weekly basis throughout the island of Ireland.

FlipMemory – the addictive memory game on the iPad. Now with competitive two player mode.
Each one of you starts with a set of photos. Find the matching pairs. For every third pair you find, you will add one pair to your opponent's board – the pressure is on!
Challenge friends and family, be the FlipMemory champion!

UNICEF Ireland – The Official "Believe in Zero" App
By getting this iPhone app, you are helping UNICEF's Believe in Zero Campaign. In return we are giving you some very exclusive content, including Celebrity Portraits, Sharon Corr's new single "It's Not a Dream" and a collection of stunning UNICEF photography, hand picked for this app. Also included is the UNICEF news feed for up-to-date news and projects from UNICEF.

geoDealio – deals near you. now.
geoDealio is a location-based service that enables you to find the best deals around you in real time. The information comes from a geospatial database backend.

ShakeAlert – Your Personal Attack Deterrent™
Before going into a potentially unsafe area, switch on ShakeAlert. Should you feel threatened by anyone, simply shake your iPhone and a screeching siren will sound. The screen will flash and an SMS/TEXT (if enabled) with a help request and your GPS location will be sent to a person of your choice.